Here at Dotson Excavating, we are proud to now offer demolition removal services with our NEW roll off containers!
Contact us today to learn more!

Residential and Light Commercial Excavation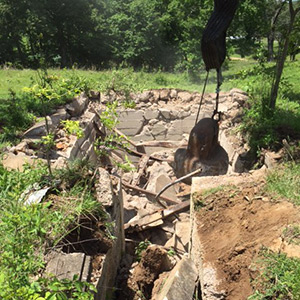 Whether you need road preparation or land grading in Cabool, MO, Dotson Excavating is the local excavation service you can always count on for fair prices and excellent work. Here is a closer look at everything we have to offer, from terraforming to septic tank installation in Cabool, MO.
From routine demolition to septic tank removal in Cabool, MO, Dotson Excavating is proud to offer a wide range of helpful services to our valued customers. Whether you hire us for land clearing or driveway preparation in Cabool, MO, you can always count on our team for great service. Here is a complete list of our offered services:
Excavating
Building pad preparation
Septic tank removal
Demolition up to three stories
Driveway preparation
Artificial ponds
Land clearing
Grading
Concrete demolition
Road preparation
Artificial lakes
Septic tank installation
Terraforming
Dotson Excavating is pleased to be able to provide helpful and necessary excavation services to both residential and light commercial clients. Here's a look at what we can do:
Residential: Dotson Excavating is happy to provide full residential excavation services in Cabool, MO. As a locally owned and operated small business, we know that when you hire someone for septic tank installation or demolition services in Cabool, MO, you want them to treat your property with the utmost respect, which is exactly what we do.
Light commercial: From land clearing to road preparation in Cabool, MO, we have the resources and experience necessary to perform a wide range of light commercial excavation services. Whatever you hire us for, we will strive to help our fellow local businesses look their best and operate effectively.
The next time you need convenient, effective and affordable concrete demolition or land clearing in Cabool, MO, we hope you will get in touch with Dotson Excavating. You can reach us by giving us a call at 417-254-0222, or by visiting our Contact Us page for more information.
---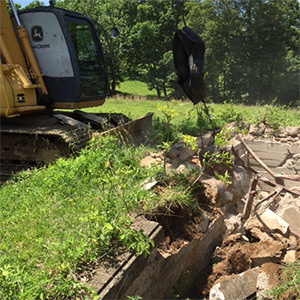 Our new pipe plow allows me to lay pipe from 3/4 to 3″. It can put the pipe in the ground up to 24″ deep in good ground and it easily puts pipe at 18″ in rough/average ground. In good open ground I can lay 2500 feet an hour.
---